সাত কলেজ
7 College Subject Choice Form Fill Up 2023
DU 7 College Subject Choice Form Fill Up 2022-2023: Dhaka University Du 7 college Subject Choice Form Fill Up 2023 has been started from today 11th July 2023. Students will be able fill up Student Information Form (SIF) or Subject choice form 2023 until 24th July 2023. DU 7 College arts, commerce and science unit admission Subject Choice online application process given this article. So lets check it.
DU 7 College Subject Choice Form Fill Up & Result 2023
Dhaka University 7 College subject choice from fill up and result notice will be published on DU 7 college admission website. At this time I am going to you in this article full details the process of checking all unit subject choice 2023 So, stay with us till the want…
Dear Students, I hope that you are quite well now because you have already passed DU 7 college admission test but many of you who have passed away at Dhaka University 7 college admission test are worried about how you will fill up your subject choice form fill up. To lessen your worry I have written this article so that reading this article you can fill up your subject choice form. For your benefits, I will discuss the full procedure to fill up the subject choice form so without any delay let's see in the following.
Update: বিষয় পছন্দক্রম পূরণের সময়সীমা পরিবর্তন করা হয়েছে। পরিবর্তিত সূচী অনুযায়ী, অধিভুক্ত সরকারি সাত কলেজের সকল ইউনিট, গার্হস্থ্য অর্থনীতি ইউনিট ও প্রযুক্তি ইউনিট এ পাশকৃত শিক্ষার্থীরা আগামী ১৬ জুলাই, ২০২৩ বিকাল ৩:০০ টা হতে ২৯ জুলাই, ২০২৩ পর্যন্ত বিস্তারিত ফরম ও বিষয় পছন্দক্রম অনলাইনে পূরণ করতে পারবে।
How to Check DU 7 College Subject Choice Result
Learn how you can get your result from there:
First visit the website collegeadmission eis du ac bd
Then Click on 'Login' button
Enter your HSC roll and SSC roll number to login
Then Press 'Enter'
Then click on 'Result' tab to know your subject name
Many 7 college applicants ask for their subject choice results. They ask for how to check DU 7 college subject choice result. It is an easy process to check the result. In 2022-23, session there are increased number of students applied for 7 college admission.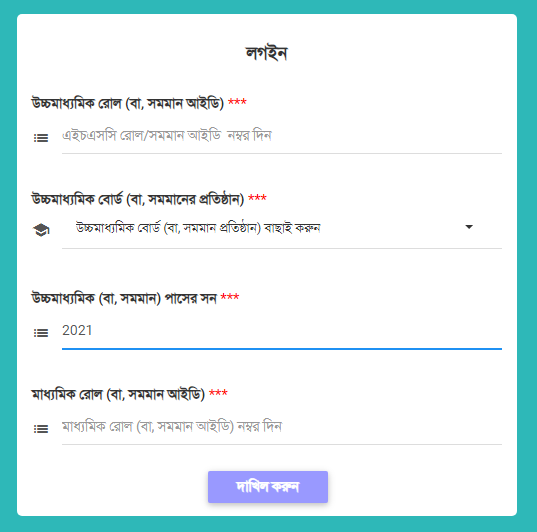 For your admission confirmation, you have to pay the primary fee using mobile banking to the authority. Without completing the payment you cannot confirm your seat in allocated college. Now the migration result and 3rd merit result is available on the collegeadmission eis du ac bd website.
7 College Subject Choice Result 2023
In 7 colleges, Science unit has 6550 seats, Business Studies unit has 5310 and Humanities unit has 9400 seats. But the applicants number is many more than it. Students know it is hard to get a seat in their desired college and a good subject.
Science, Business and Arts & Social Science Unit Subject Choice 3rd merit list result check on their official website so visit collegeadmission eis du ac bd.
Students can know subject name and college name by sending SMS from their mobile phone number. Applicants can see their migration result after they login in the admission related website of 7 College.
7 College 2nd Merit & Migration Result 2023
Sending SMS is a good option for you to check the result. You can send message from any mobile operator except Grameenphone. To check subject choice result by SMS:
Go to your mobile message option
Type: DU [space] CSC [space] your admission roll number
Example: DU CSC 256398
You have to send this message to 16321 number and wait a moment. This sms system is much helpful for those who don't have internet connection in their device. Many of the students have used the SMS system to view their 7 college subject wise result.
The SMS way is faster and easy to know the 7 College 3rd merit and Migration result. Now check your subject name and college name today on the result day.